The historic Nederland Town Hall is located at 45 West 1st Street. If you're looking for a specific document, have questions about licenses or permits, or just want to know a little bit more about town, we invite you to come in! Our staff is here to help you, no matter what it is you need.
Hours
Monday through Friday - 9am to 5pm
Contact Us
Phone - (303) 258-3266
Mailing Address - P.O Box 396, Nederland, CO 80466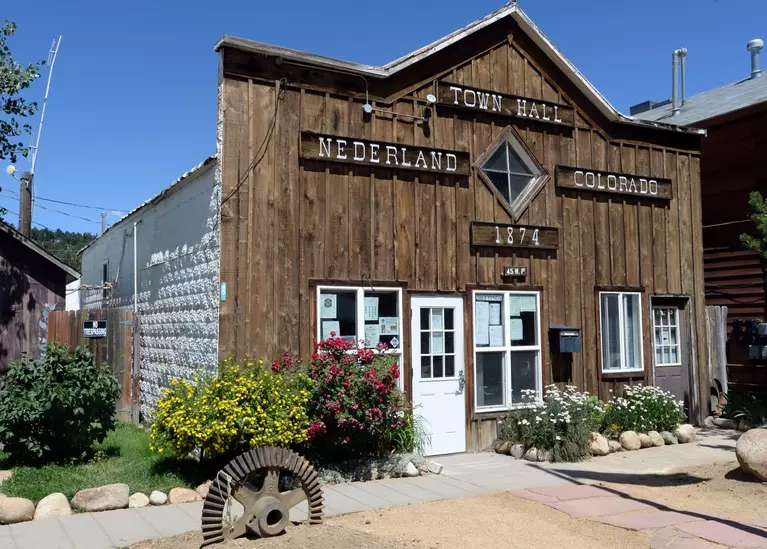 Town Administrator / Zoning Administrator
Miranda Fisher
(303) 258-3266, ext. 1010
Town Clerk
Macy Caligaris
(303) 258-3266 ext. 1030
Community Planner
Britt DeMinck
(303) 258-3266
Town Treasurer
Rita Six
(303) 258-3266 ext. 1020
Finance Support Specialist / HR
Christy Ruehman
(303) 258-3266 ext. 1050
Public Engagement Manager
Peter Cacek
(720) 514-9465
Billing Support Specialist
Janet Ovenden
(303) 258-3266 ext. 4010
Administrative Assistant
Corrina McLeod
(303) 258-3266 ext. 1001
We are able to accept payments for all licenses and permits, as well as water utility payments at the front desk during business hours, or they can be left in our Payment Drop Box outside at any time. They can also be sent to our mailing address. We can accept cash, check, credit/debit card, and money orders. There is a 2.9% processing fee for credit card payments.
Payments need to be received in Town Hall by 5pm on the specified due date to be considered timely (regardless of postmark date when mailed). If a payment due date lands on a Saturday or Sunday, any payment collected from the Payment Drop Box by 6:30am the following Monday will be considered on time.
Tickets must be paid through the Nederland Police Department.
*NOTE* At this time we cannot accept credit card payments in person for Utility Bills. For more information on water billing, including how to pay via credit card, go to the Utilities page.
The town of Nederland is allowed by State and Municipal law to recover, through the collection of fees, the expense of some of the work it does on behalf of residents. These fees are intended solely to cover the cost of processing various application and permits, including any background research or other staff time that may be necessary.
Any questions concerning Town fees may be directed to the Town Clerk, stopping by Town Hall during normal business hours, or through our Contact Us page.
If you live in the Nederland Community Library District, you're eligible for a free EcoPass! EcoPass holders are entitled to unlimited rides on RTD transit services, including:
Any local or regional bus
Boulder's Community Transit Network: HOP, SKIP, JUMP, BOUND, DASH, STAMPEDE and BOLT
SkyRide bus service to DIA
"N" bus to Eldora Mountain Ski Resort
Light Rail & Commuter Rail
Call-n-Ride
To get your EcoPass, simply come to Town Hall during our business hours with both of the following:
• a government-issued photo ID and
• other proof of residency
For more information on the EcoPass program, check out our EcoPass page here.
Both our Town Clerk and Administrative Assistant are notary publics, and are willing to notarize any official town documents free of charge. If the document you need notarized is time sensitive, please call ahead of time so we can ensure that at least one person will be there to assist you.
To report a code complaint, call Town Hall at (303) 258-3266 ext. 1040 or contact SAFEbuilt Code Enforcement Official Jake Cooke by calling (970) 302-0392.
You can also report a code complaint by using the Report an Issue form.
The Town of Nederland's CORA request policy was adopted to assure prompt and equitable service to citizens requesting access to public records, regardless of the format of those records, in accordance with the requirements of C.R.S. 24-72-201 et. seq. This policy does not apply to criminal justice records, as defined in C.R.S. 24-72-302. See the entire policy here.
To make an Open Records Request, you can fill out this form, and mail it to us at:
Open Records Request
Attn: Nederland Town Clerk
PO Box 396
Nederland, CO 80466
Or fill out the online version of the form, which can be found here.
The Town of Nederland observes the following holidays. On these days, Town Hall is closed, and on half days, Tow Hall closes at 1pm:
New Years Day
Martin Luther King's Birthday
Presidents Day
Memorial Day
Independence Day
Labor Day
Veterans Day
Thanksgiving Day
Friday after Thanksgiving
1/2 Day Christmas Eve
Christmas Day
1/2 Day New Years Eve