The EcoPass is an annual transit pass for participating groups and provides unlimited usage of RTD services. In Nederland, they are available to full-time, permanent residents of the Nederland Community Library District. They are funded by your property taxes.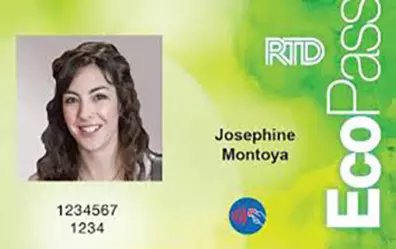 Town Hall staff is available to process EocPasses Monday through Friday, from 9am to 5pm. In most cases, they can be done same day, so no appointment is required!
FOR ALL PASSES:  RTD requires that all residents show:
• a government-issued photo ID and
• other proof of residency.
What is an acceptable form of ID?

State Issued Driver's License (does not have to be issued by Colorado, but cannot be expired)
State Issued ID
Passport

What is an acceptable Proof of Residency?

An official lease – Hand-written leases, month-to-month leases and letters from landlords are not accepted. 60+ days must still be on the lease
A current utility bill dated within 60 days
A credit card or bank statement dated within 60 days with your physical property address listed. A letter from your bank or other types of documentation will not be accepted

Please check to make sure the physical address is listed. A Nederland PO Box does not demonstrate proof of residency.

Please note: A driver's license with a Nederland PO Box or physical address WILL NOT count as proof of residency.
For Minors (age 6 – 19): RTD requires that all minors show:
a photo ID and

current proof of residency
What are acceptable documents for minors?

School document showing residency (printed copy of the Household Information page from BVSD Infinite Campus)
A current school photo ID or passport

What if a photo ID isn't available?

If a photo ID cannot be provided, a parent can qualify the minor child by providing the parent's:

Government-issued photo ID
Proof of guardianship (birth certificate, court document, or health insurance card showing the dependent's name or matching ID numbers), and
Current proof of residency (as outlined above)

Please bring your child with you to Town Hall so we can take their picture for the pass.
To get a replacement pass, you need to re-start the process as if you have never received one before.
Please come by Town Hall with your photo ID and other proof of residency, and we will re-take your picture. The cost for a replacement pass is $10.00, which is due before your pass will be issued.
If you have any questions, please call Town Hall at 303-258-3266, or email the Town Clerk.
No! As long as you live in Nederland Community Library District, your card is valid.
If you move out of the Nederland Community Library District, you are no longer eligible to use the pass and you must return it to Town Hall.
If you are a renter or are otherwise living on a property you do not personally own, you must come in to Town Hall to re-demonstrate proof of residency every year. Failure to re-demonstrate proof will result in your pass being suspended. RTD will un-suspend your pass once you have re-demonstrated proof of residency.
Where is my EcoPass Valid?
All EcoPass holders are eligible for unlimited rides on RTD transit services, including:
Local Buses
Regional Buses
SkyRide service to and from DIA
The 'N' to Eldora Mountain Ski Resort
All Community Transit Network buses in Boulder, like the Hop, Skip, Jump, Bound, and Dash
All Light Rail and Commuter Rail
All Call-n-Ride services
Nederland Eco Pass Public Improvement District Advisory Committee (NEPPIDAC)
The NEPPIDAC is an independent committee that provides Boulder County Commissioners with recommendations regarding the administration of the Nederland Eco Pass Public Improvement District.
While the Board of County Commissioners (BOCC) has the legal authority and responsibility to make decisions regarding the operation and finances of the District, the Committee members serve in an advisory capacity to the BOCC. The Committee acts as a communication link between the property owners and residents of the District and the BOCC. The Committee shall advise the BOCC and the Public Works Department on issues pertinent to the implementation of the public improvements serving the District.
For more information about NEPPIDAC, visit: https://www.bouldercounty.org/transportation/multimodal/bus/nederland-eco-pass/