#FFFFFF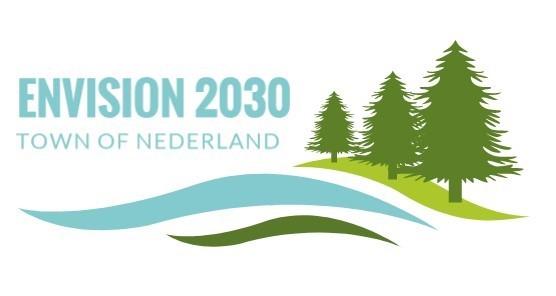 In 2021, the Town of Nederland adopted Vision 2030, where through community feedback, Nederland identified a Vision for the community's future based on common values and guiding principals.
In Nederland, our greatest assets are our residents - the diverse people who live, work, play, and contribute to all aspects of our unique mountain community. We are a community guided by a shared vision that reflects community values and priorities. It is a place where our children thrive and people connect. Neighbors know and care for one another, and community members are proud of their deep, rich history, and a quality of life that is second to none.
We proudly maintain this small-town feel and distinct identity with a 'small is beautiful, less is more' approach.While our town has grown, we have remained true to our origins with this community-centered approach towards our future. Through this, we continue to work towards a model of sustainability - both for the environment and our society.
#FFFFFF
Below, you will find each of the 2030 Vision Statements that were carefully crafted by our Envision 2030 Subcommittees.
These vision statements were approved by the Board of Trustees during their August 3rd meeting.
#FFFFFF
Arts, Culture, & Education
In 2030, Nederland celebrates our community's creativity and natural and cultural resources while empowering lifelong learning and engaging the community in opportunities throughout Town.
Arts, Culture, & Education Subcommittee:
May Jarril (Chair)
Deb D'Andrea
Dawn Baumhover
In 2030, Nederland is a community that fosters trust, encourages participation, and creates a safe environment for open and civil debate; where all residents feel their opinions are welcome and respected by the Town of Nederland government bodies who actively seek residents' opinions through various outreach modalities, and all are motivated to take personal responsibility.
Community Engagement Subcommittee:
Deb D'Andrea (Chair)
Mary Jarril
Kristopher Larsen
In 2030, Nederland thrives in a healthy, diversified, localized, and sustainable economy that prioritizes the needs of its residents. Our economy reflects a unique community identity that benefits from visitors participating in low-impact recreation; arts and entertainment; and attractive retail, hospitality and lodging, while protecting and respecting our irreplaceable natural setting.
Economic Development Subcommittee:
Tom Mahowald (Chair)
Kristopher Larsen
Ron Mitchell
Lee Stadele
#FFFFFF
Environmental Sustainability
In 2030, Nederland is a model community for environmental sustainability. Our community is knowledgeable about how our everyday decisions impact the earth. We take action to reduce climate change and mitigate it's impacts. We are dedicated to conserve, protect, and restore our environment to foster a sustainable future that leads to social and economic improvements in our community.
Environmental Sustainability Subcommittee:
Karen Blakemore (Chair)
Jill Dreves
Billy Giblin
Tom Mahowald
Health, Human, & Social Services
In 2030, Nederland and the Peak-to-Peak community residents have accessible and affordable healthcare and human services.
Health, Human, & Social Services Subcommittee:
Ari Goodman (Chair)
Tom Mahowald
Atashnaa Medicineshield Werner
In 2030, Nederland's diverse housing serves the needs of the local population in a stable and livable community while maintaining its unique, small town identity. Low income, alternative, and affordable housing choices are available for our local workforce, seniors, and others - including young families. A thriving downtown includes lodging, workforce, and other housing options that are accessible. Housing builds and rebuilds follow sustainable environmentally conscious, and fire-wise building and development practices.
Housing Subcommittee:
Mary Jarril (Chair)
Kayla Evans
Ron Mitchell
Atashnaa Medicineshield Werner
#FFFFFF
In 2030, Nederland's government effectively provides representative, transparent, forward-thinking leadership and administration through dedication, creativity, and responsiveness to the needs and goals of the overall community.
Municipal Government Subcommittee:
Tom Mahowald (Chair)
Kristopher Larsen
Ron Mitchell
Lee Stadele
Parks, Recreation, & Open Space
In 2030, Nederland residents and visitors enjoy well-maintained, accessible, and ecologically sustainable parks, open space, and trails with recreational and cultural services and facilities that protect and enhance the unique mountain ecosystem of which we are a part.
Parks, Recreation, & Open Space Subcommittee:
Jill Dreves (Chair)
Karen Blakemore
Mary Jarril