Current Status:

High Transmission
Boulder County Public Health is following the Centers for Disease Control and Prevention's (CDC) comprehensive data tracking system to determine transmission levels. The CDC's system tracks COVID-19 cases, hospitalizations, testing and other metrics to define four levels of community transmission, low, moderate, substantial and high, based on percent of positive tests and the number of cases per 100,000 people. The County Level View displays this information for Boulder County.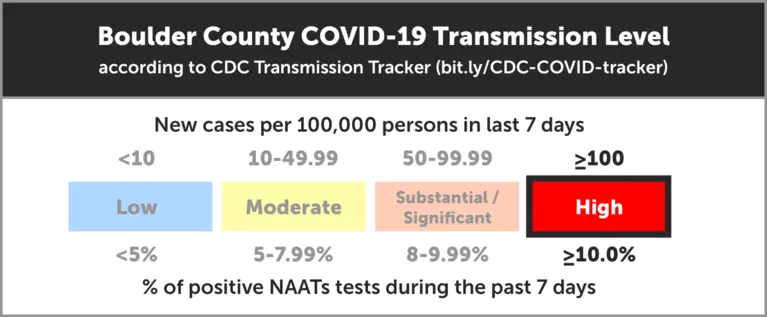 NEDERLAND'S RESPONSE TO COVID – 19
Community Center: The Fitness Center is open.
Monday & Wednesday, 8 am – 8 pm
Tuesday, Thursday, & Friday, 8 am – 7 pm
Saturday, 9 am – 3 pm
Sunday, CLOSED
Police Department: The Police Department will be implementing staggered shift work when possible.
Public Works: As an essential department, Public Works will be implementing staggered shift work when possible.
Town Hall: Open Monday through Friday from 9 am – 5 pm.
Visitors Center: Currently open seven days a week, from 11 am – 2 pm.
Boards & Commissions: All Board and Commission Meetings will be held virtually until further notice. All meeting agendas can be found here.
Indoor Mask Order Repealed
After receiving a detailed briefing from experts and hearing public comments, the Boulder County Board of Health, voted to rescind Public Health Order 2021-08 and Public Health Order 2021-07 effective at 5 p.m. on Friday, Feb. 18.
Although masks will no longer be required by BCPH after February 18, Boulder County Public Health recommends all individuals 2+ wear a mask while around others. Schools, childcare centers, privates businesses, and employers may choose to implement their own policy requiring masks for individuals in their space. Boulder County Public Health provides signage for entities that wish to continue requiring masking after the order requirements end.
To reduce the risk of COVID-19 transmission for their staff and students, BCPH strong encourages schools, child care facilities and youth activity providers to enact their own indoor mask policies. BCPH also recommends that private businesses and facilities implement their own vaccine or indoor mask requirements and policies to keep those they serve safe.
Read the full order here: https://content.govdelivery.com/accounts/COBOULDER/bulletins/30aa92a
Gene Olinger Joins Fault Lines To Discuss The Delta Variant and Covid's Next Surge