Current Status:

High Transmission, Masks Required
Boulder County Public Health is following the Centers for Disease Control and Prevention's (CDC) comprehensive data tracking system to determine transmission levels. The CDC's system tracks COVID-19 cases, hospitalizations, testing and other metrics to define four levels of community transmission, low, moderate, substantial and high, based on percent of positive tests and the number of cases per 100,000 people. The County Level View displays this information for Boulder County.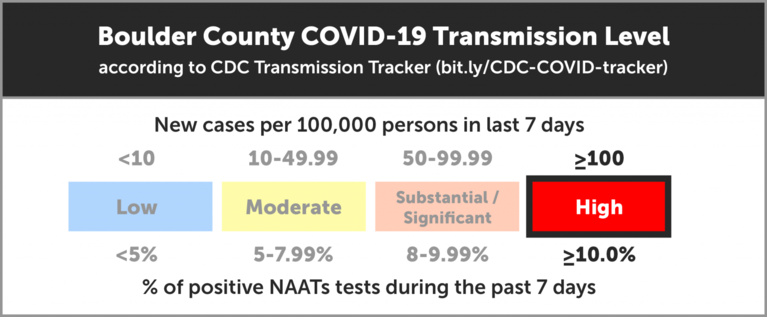 Boulder County is currently in:
High Transmission, which is the highest level of transmission of COVID-19 under the CDC transmission tracker due to the Delta variant. All individuals 2+ are required to wear masks in all indoor settings regardless of vaccination status. View current facial covering requirements and recommendations.

Masks are required in indoor spaces during periods of substantial and high transmission.

If Boulder County is in substantial or high transmission status for

five consecutive days

, masks are required in public indoor spaces.

Once transmission decreases to moderate or low levels for

21 consecutive days

, masks will no longer be required in public indoor spaces. However, individuals may still choose to wear them, and businesses may still implement policies requiring them.
NEDERLAND'S RESPONSE TO COVID – 19
Every Monday from 4pm - 7pm at the Nederland Community Center.
Testing will be done either in the Gymnasium, or in the parking lot in front of the east-side entrance.
Please follow all signed and regulations, and wear a mask while in the Community Center.
You can pre-register ahead of time by visiting affinityecarecolorado.com
If you are symptomatic, PLEASE STAY IN YOUR CAR. Call the front desk at (303) 258-9721, and we will send someone out to you!
Thank you to Boulder County Public Health, Boulder Community Health, and Dennis Whalen of Peak to Peak Housing and Human Services Alliance for their efforts to make this happen!
Community Center: The Fitness Center is open. Masks are required at all times.
Monday & Wednesday, 8 am – 8 pm
Tuesday, Thursday, & Friday, 8 am – 7 pm
Saturday, 9 am – 3 pm
Sunday, CLOSED
Police Department: The Police Department will be implementing staggered shift work when possible.
Public Works: As an essential department, Public Works will be implementing staggered shift work when possible.
Town Hall: Open Monday through Friday from 9 am – 5 pm. Masks are required at all times.
Visitors Center: Currently open seven days a week, from 11 am – 2 pm. Masks are required at all times.
Boards & Commissions: All Board and Commission Meetings will be held virtually until further notice. All meeting agendas can be found here.
The Board of Health unanimously approved PHO 2021-08, requiring face coverings to be worn by individuals age two and older in all indoor public spaces regardless of vaccination status. This order went into effect Friday, September 3rd, at 5pm.
Public Indoor Spaces includes but is not limited to: public transportation, private and public offices, retail stores, personal services, restaurants, bars, event centers, gyms, recreation centers, and manufacturing facilities.
Outdoor Spaces: The order does not require wearing a mask in any outdoor space. Whenever possible, businesses and individuals should participate in activities with members of different households outside.
Required Signage: All businesses must post signs at entrances instructing individuals of their legal obligation under this order.
For more information, including a detailed list of Limited Exceptions, Order Expiration, other FAQs and Updates, please refer to the BCPH website.
Gene Olinger Joins Fault Lines To Discuss The Delta Variant and Covid's Next Surge